With our new daughter on the way (back in 8/2003) my wife was debating between using cloth and disposable diapers. My wife liked all the pro's of helping the environment, saving money, and the health benefits to our baby.
I was ready to fully support my wife in her decision, but I wasn't convinced that cloth was cheaper… especially after I saw the price tag of some of the cloth diapers I saw online (up to $20 each).
Being the MS Excel freak that I am I decided to do some calculations. I gathered some general data concerning prices of purchasing and washing cloth diapers vs. disposable. Here is a screenshot of my calculation:
To download the spreadsheet click on the image or click here.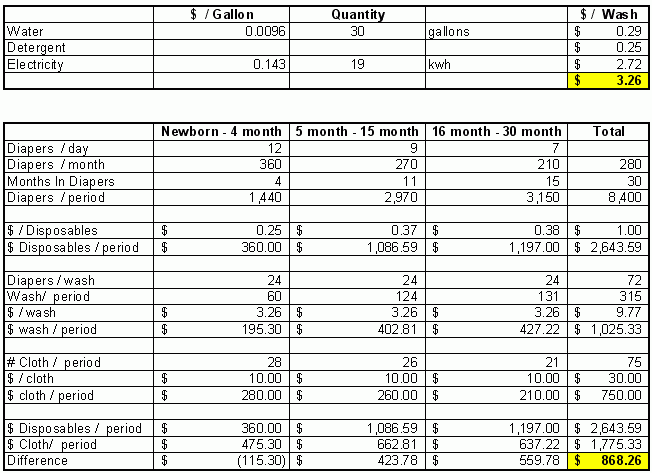 So, based on my calculations we'll be saving the environment and saving some cash ($868 in this example)!
During the first 5 months of our baby's life we were able to use grandparent's washing machine at no cost. If we could go all the way through her diaper life and take out the cost for washing the savings jump up to $1,800 over disposables.
Here is my wife's favorite place to get cloth diapers. They work great on our baby and we're really happy with them (as is our baby and all her friends that use them) ! www.cutest-cloth-diapers.com
Here is Emily's follow up regarding cloth diapers: CLICK HERE!