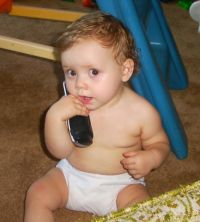 I use a couple kinds of cloth diapers. To be honest, there a few types I don't really understand, myself, but I can share what I know and what works for us.
First, I have a friend who uses cloth diapers (a couple friends actually!) and she introduced me to these totally cute diapers: www.cutest-cloth-diapers.com. They're called "Little Lambs" and they're all-in-ones (AIO), meaning they have the plastic pants built in. They're comfy for the baby, adjustable, dry fast after washing, and (a definite plus) easy for husbands to use! (: The only problems I have with them is that they are prone to leaking if they get too soaked. Also, the girl who makes them offers a couple different soakers that snap into the inside (they're what soak up the pee). The fleece ones are supposed to be the best (they wick the moisture away etc.), but for some reason, I'm having trouble w/mine and the moisture just runs off them. I'll let you know if I get that fixed (:. When our baby was newborn though I had just cotton/hemp soakers and they worked great. I use the side snap model. She offers a front snap one that's supposed to be more adjustable and just started making a one-size-fits-all, but I haven't ordered any, so I can't tell you how good they are.
In addition to the Little Lambs, I have some other cloth diapers I use around the house. I sometimes use them when we go out, but since I have to handle the wet part of the diaper with those, it's not as pleasant/convenient. The ones we've been using for a while are made by MotherEase and they're one-size-fits-all! We think they're great! (www.motherease.com) I use the "One Size Dry Diaper".
When our baby was first born I used the old fashioned tri-fold diapers a lot of the time. I absolutely WILL NOT do diaper pins, but they have this great thing called a snappi that works great! (Click here) I got mine from my friend who had more than she needed, but I think they're only a couple bucks and you can find them all over the internet.
For the above mentioned cloth non all-in-one diapers I of course use plastic pants with them. I don't really like the stuff I usually find in stores. It seems really stiff and the elastic feels really scratchy. I use two brands. The ones I like the best are Bummis whisper pants (I'm pretty sure – they're not labeled!) (I think this is where I bought them) and the other ones I must have found at Babies R Us because they say they're distributed by Toys R Us. They're made by "Especially for Baby".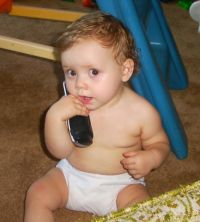 Our happy baby in her cloth diapers and "whisper pants" cover.