Over the years since first posting the article on my Homemade Compost Sifter Screen Sieve I've received some really amazing comments by some incredibly ingenious site visitors.   A few have even been willing to submit their information for inclusion onto www.Nifty-Stuff.com including:
Automatic Compost Sifter – Screen
Sieve – Screen Shaker for Soil and Compost
Over the past few days I've been corresponding with another visitor of the site who has his own design.  He sent over a video (below) which really impressed me and I implored him to send me more information and pictures which he kindly did!   Below is the HomeMade Rotary Trommel Screen by Ken: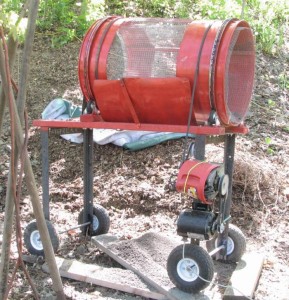 "I had need for about 6 cubic yards of broken stone to level a steep area on my property.  Because rain water flowed through the area, I wanted just stone, no dirt to impede the water flow.   I have about 1500 cubic yards of broken shale and soil available if I could just screen out the dirt. 
To this end I built my rotary screener out of:
a 55-gallon steel drum

2-24 inch id bicycle rims bolted to the drum.

4 caster wheels

Four 3 foot long bars of 1-1/4 x ¼ steel bars

A clothes dryer motor and belt

Some 2 inch angle iron

2-8 foot long 2×4 pt lumber

½ inch mesh wire cloth.

2 inch angle iron

Miscellaneous flat and v belt idlers
To keep the drum bicycle rims running in the casters, I used the drive belt on the motor/outlet end and a long v-belt bought from home depot for $1.99 on closeout at the inlet end.
I found the drum speed was too fast, around 55 rpm, throwing dirt all over the place, so I added a ¼ hp motor driving the washing machine motor at half speed, which worked out well. Both motor mounts are pivoted so the drive belts are tensioned by motor weight and the bungee cord
I didn't want to throw the dirt and stones; I wanted them to slide down the screen as they moved toward the outlet. 
I made the screening opening 24 inches long so the dirt would fall down into a wheel barrow or garden tractor trailer and the stone would fall out the end, also into a wheelbarrow or trailer.
I installed the 2 side deflectors so the screenings would only drop straight down and not on the casters or frame of the machine.
I later added four easily removable wheels for ease of movement.
The barrel is tilted by having the inlet end casters raised on a 2×4. 
The barrel is 35 inches long, the machine is 48 inches long.  I originally cut 4 windows in the barrel for the screenings to fall through, added the steel bars and cut out the spaces between the windows to get a full circumference for screening. 
As soon as I get an other barrel, I'll simply cut it in half and use the bars to space the halves 24 inches apart, making it 59 inches long.  That way I'll have more space to toss the material in and more overhang on the outlet end to make it easier to position the trailer or wheelbarrow.
The screen wire permanently attached to the barrel can be of a larger opening size, for larger screening and a smaller mesh liner can be laid in and attached with twisted wire ties to the main screen for finer screening.  I used this process with window screen to separate pea gravel from sand. "
A big thanks to Ken for sharing this with us!  If you have any questions or comments please post them below.  Also, if you want to make an article submission for our site please comment below.