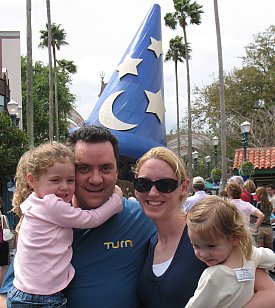 Cut to the chase?  Go to TouringPlans.com and read then join!  Honestly, it was the only trip planning site we needed.
Back in Febuary of 2008 my family took on the exciting yet daunting task of planning a trip to Walt Disney World.   We knew if we wanted to maximize our trip and have a lot of fun (with relatively few frustrations) we needed to get our ducks in a row. 
That trip was quite a while ago and I'm finally going to share some of the ideas and resources we used when planning our trip to DisneyWorld.
Hitting Up Friends:
I knew a friend who recently had taken his family to DisneyWorld and wanted to get his feedback.  I wanted to pull from his experience and asked his thoughts on his trip.  He sent me some absolutely wonderful advice and I felt selfish that I was the only one benefiting, so I thought I'd share his great comments and suggestions:
"Before you go to Disney, prepare properly.  It takes several visits just to learn what's there, and it's easy to miss some great attractions.  It's also important to budget your time properly, especially with a small child.  There is a great temptation to "go, go, go", when you need to build in some rest time and not over-do it.  If you had unlimited energy, there is enough to do to keep going all day and night for a week, but that would be a BIG mistake.  There's nothing like watching the excitement in your child's eyes as they experience the Magic Kingdom and its characters.  If they get over-tired, it's no longer fun for them (and therefore for you).  If your parents are up to walking 5 miles/day, take them along – they'll make great baby sitters.
Here is a great book on Disney World (http://www.amazon.com/Birnbaums-Walt-Disney-World-2008/dp/1423103920/ref=pd_bbs_sr_2?ie=UTF8&s=books&qid=1202902822&sr=8-2 ).  Even though most people think of Disney as just 4 theme parks, it is FAR more than that.  Disney World should be looked at as a "full service resort" that can pick you up and drop you off at the airport (for free – http://www.mousesavers.com/magicalexpress.html ) and never expose you to the outside world.  Here are two websites that have a lot of information:
During school breaks, they get very crowded, and your memories will be mainly of long lines.  From their ticket pricing structure (http://www.mousesavers.com/wdwticketprices.html#myw), you can see that most people who go for multiple days will go to at least one of the parks every day of their stay.  It is also obvious that Disney wants to get people to stay longer and spend all of their lodging and food dollars at Disney.
If you are just looking to go to the Magic Kingdom for 1 day, I would just go to Disneyland instead."
A vacation at Disney World requires a lot of planning to maximize the positives and minimize the negatives (and there are lots of both)."
And in another email:
"Per this link (http://www.mousesavers.com/moderateresorts2008.html ), your dates are at the end of the "peak season" (winter & Easter break for many eastern schools).  I think that you can guess what that means in terms of crowds and lines.  The room rates tell you that the only busier time is during Christmas (where they often have to close the gates early because they hit their capacity limit).  From personal experience, we once went during the school break period – we will NEVER do that again.  Not only are the crowds excessive during this time, they don't have enough help to properly man the parks.  During the summer, they have lots of high school/college students, so keeping the park open for extended hours isn't such a problem.  During the other 9 months, they rely on lots of retired people who work part time.  This works OK during the "not-so-busy" periods when the park closes early, but look at the hours during the week of Feb 17th.  During these times, the retirees are FORCED to work extended hours, and some workers get tired and cranky (school break was the ONLY time that I have seen Disney "Cast Members" get cranky).  It's not just the hours; some rides have "double lines" where twice as many people can be accommodated during busy times – more workers are therefore required for each hour that the park is open.  Staffing is often well below optimal during these times, and things just don't run as smoothly as they do when things are properly staffed (including restaurants).
Next, we find that it is easy to try to do too much, get tired and have a bad experience.  We always get to the park when it first opens – the first 2 hours are "golden hours" when the crowds are down and you can actually get on the best attractions.  After 11:00 the lines are longer, and after 1:00 (when many people continue to pour into the park), the lines can grow to 2 hours on popular attractions during busy periods.  "Fast pass" sounds good, but some rides have a 5 hour wait to use a fast pass in the afternoon/evening on a busy day (so they can be effectively worthless).
How's that for a "negative"?  Disney World can be a GREAT place to visit if you know when to go and how to get around.  It can also be a living hell if you go at the wrong time and with unrealistic expectations.  Under no circumstances would I recommend a 1 day visit during the time period that you mentioned.  Look at this link (http://www.mousesavers.com/disneyresorts.html#datestoavoid ).
If you really want to go and show your family a great time, go for a week in the middle of one of the "value seasons".  Stay in one of their resorts (we like the "Moderates" as a good mix of cost/ambience) – discounts are available through AAA.  They also have "value resorts"  that cost less, but don't have the ambience of a resort and are packed with small kids.  Go to the park each day when it opens, stay for 3-4 hours, go back to your resort for a swim/nap, then go back in the evening for a few hours.  DON'T overdo it – getting tired is a killer, especially when you have a small child or a cranky grandparent in tow.
If you only have one day during this time period, I would pick a park that won't be packed.  Surely there are a number of choices closer to home.
I'm sure that you will agree that:
1.    One day isn't nearly enough time.
2.    Going without reading up ahead of time and having a plan would greatly detract from your experience.
3.    Having realistic expectations is a key to enjoying yourselves.
4.    Knowing how to "work the system" is a big help."
I was so thankful for this wonderful information.   I was even more determined to make this trip a success and not end up like a dear in the headlights when we arrived.
TouringPlans.com – Best $8.95 I spent during the whole trip!
I can't recall how I stumbled upon this gem.  Maybe it was from my friend above or a few web searches, but this tool made the whole trip infinitely better than it would have been without.
Lots of great information on the site (including best days to go), but what really made the tool invaluable to us was the actual Touring Plans.  Basically you can tell it which park you are going to, how many days you'll be there,  the ages of the people in your family, and it will create a custom plan with a map that shows where to go and when.    The best part:  It leverages the FASTPASS system so you don't spend 1/2 your trip in lines.
To see sample touring plans, click here

I was worried that too much optimization would ruin the trip and/or that our girls wouldn't be able to keep up with the pace, but things couldn't have been more perfect.   In fact, using the guide we had either my wife or I run to get the FASTPASS for all of us while we got in line for something that didn't support FASTPASS.
At the end of each day and by the end of the trip we were exhausted, but had no regrets about what we had done or hadn't seen.
Examples of before and after a great fun-filled day at DisneyWorld
Have you been to Disney World or DisneyLand?  Have some good suggestions or ideas?  Leave a comment so others can gain from your experience!