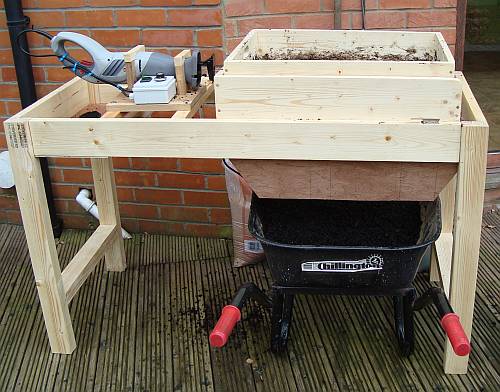 We've had a lot of interest in the Automatic Compost Sifter – Screen post. One visitor of the site, Richard Buxton, posted a comment and sent a picture. I was so impressed I asked him to submit some more details so I could post it up as its own article. So, below we present the "Son of Sid": 
A sieve-box moves backwards and forwards by means of an electric motor. Sifted material falls through a mesh base and a guide chute into a wheelbarrow below. The sieve-box is hinged to allow debris to be tipped out.
Two open boxes; similar to kitchen drawers but without bases, are nested inside one another and arranged so that the inner box may be tipped up on a piano hinge for clearing any material that does not fall through the mesh.
The two nested boxes have four small, in-line castors underneath to allow lateral movement along two rails. These full-length rails are supported on six anti-vibration mounts (Elasto Mount – AT type) that attach through angle brackets to the inside faces of the long-rails of a supporting table-frame.
Movement is provided by a reciprocating saw clamped to a board and firmly anchored across the running rails. The Saw mechanism is connected by means of a push-pull bar fixed to the outer of the two nested boxes with a gate latch and 10mm bolt.
The reciprocating saw has been modified to disable the original power switch and the simple speed control electronics have been removed and adapted to provide a slower rate of reciprocation. A watertight enclosure fixed to the saw mounting board contains the removed speed controller circuit together with an illuminated on/off switch and a speed adjustment knob as operator controls.
The running rails are joined together by cross batons in the manner of railway sleepers so that all moving components and all anti-vibration mounts act in unison. As the reciprocating mechanism moves so does the sieve-box assembly.
The fitted mesh is ½ inch square but a finer mesh of ¼ inch may be dropped in on a sub frame for a finer particle size.
Overall dimensions of table-frame: Length1340 – Width 560 – Height 950
Sieve box: Length 610 – Width 455 – Depth 120
Original speed 300 – 3000 cycles/min. Modified speed 0 – 200 cycles/min.
Power consumption estimated to be in the order of 100W

This view shows the sifting box tipped up.
You can also see a rudimentary mudguard covering the castor wheel but some
sifted compost is visible on the running rail so I think I will need to fit full length
mudguards instead of these boy-racer ones.
Son of Sid has a very smooth action
The speed controller is subject to variation due to ambient temperature but luckily the purely
accidental selection of components I used (potentiometer and two resistors) allows me to adjust the speed accordingly.
If I load it too heavily I need to turn the wick up a little to get him running properly and as he empties I can turn it down.
The concept idea came from Sid the Sifter and my motivation was nothing more than laziness.
People often say, "Here's something I made form bits I had lying around."
True I did use a few lying around bits but I bought most of it – the most sexpensive of course being the saw
which cost £36 ($52)
This picture shows motor, control box and combined tool store and cup
holder. (I am NOT responsible for the brickwork in the background).
Three quarter view. Notice tipping hinge and strain relief bracket on
table frame – slotted into carrier box to reduce tipping strain
The Design
Speed controller: The Red Wheel is a combined switch and speed potentiometer
– on the full speed setting the switch bypasses the speed control. I removed
this control completely – five soldered connections
Speed controller reverse: You can easily see the five joints all in a
circle that hold the potientiometer on the circuit board. The new control
potentiometer connects to the two pads on the left. I used a 120K linear
pot and added ballast resistors by trial and error to get the speed range
I wanted. I think the total resistance was close to 850k – up from 500k
on the original
A huge thanks to Richard for all the great pictures and information!