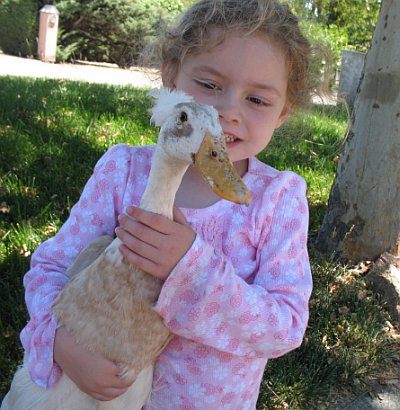 Rest In Peace Ming-Ming Duck
After years of thinking about this, and after 2 separate raccoon attacks I finally found some time to create a prototype / proof of concept of my auto chicken coop door closer.    You can read the details of the initial design here: http://www.nifty-stuff.com/automatic-chicken-coop-door.php.   The most recent coon attack was 3 weeks ago when a gang of 4 coons came into the coop just an hour after sunset.   They were able to kill a hen and our only duck before I got out there to scare them away.
It is a terrible feeling knowing that if you had only gone out a few moments earlier that everybody would be fine.  It only takes a single night of forgetting, or not getting home in time to lock up the coop and an entire flock could be destroyed.
As stated in my original auto chicken coop door plans, I only needed a design that would close the door in case we forgot or couldn't make it home in time.   We'll still try to manually close the coop up, but this will give us the extra safety net we need to make sure everyone sleeps safe!
Here is the BETA Version 1.0 Open & Close
Here is how the auto coop door works:
(click on image for labels)


The digital timer (110 volt AC powered) triggers at a predetermined time (6:30 pm, 15 mins after sunset) and sends power for 1 minute through an AC to DC adapter (12v 200mA) which powers the car door lock actuator.
The actuator receives power and pulls, with a good amount of force, the pin which releases the door.
The door falls swiftly to the closed position and stops on a piece of rubber bike tire for cushioning.
A pivoting piece of wood with a reflector falls down.  This allows us to shine a flashlight from the house, about 150 feet away, to see if the door has closed without walking to the coop.
A spring loaded pin / latch falls and locks into place preventing any would be killers from lifting the door.
Resetting the system is simple:  Pull on the spring loaded pin while raising the door.  Hook the door onto the top release pin.
Here is a video of the auto coop door closing (narrated by my 5 year old Alana using a rotary timer):
Here are some notes and changes to the original plan:

The Actuator, Pin, & Brackets:
I was pleasantly surprised to find that the actuator has two holes that allowed for easy mounting onto my door.  It also has a nice swivel ring to which I could connect my pin.   The pin and brackets were just some old pieces I found around the house.  I wanted the left most bracket to push against the door hanger to ensure a clean release.  The bracket to the right is there to guide the pull pin and to make sure the pull pin didn't fall with every release.
Cutting Power:
I was very concerned about the actuator motor burning out during the 1-3 minutes that power was being sent to it.  These aren'tdesigned to continue to run.  I had two ideas on how to solve this, either:  1) Install a limit switch at the bottom or the top of the unit to cut power once the door fell, or use relays or a circuit to provide power to the actuator just long enough to pull the pin.

While staring at my design it hit me, "Everything is made out of metal… metal conducts electricity!"   I stuck my alligator clips to thebracket and to the pin and voila, once the door falls the circuit is broken and power is cut to the actuator!    To the right is a closeup of the bracket and the pin (click for a larger version).  You'll see that the pin rests on the bottom hold of the bracket.  The weight of the door pulls the pin down to make firm contact with the bracket which ensures good current flow.

Securing The Chicken Door:
Gravity was really good at helping me drop the door into position, but not so good at keeping the door closed from prying little claws.  I needed a way to lock / latch the door into place once it fell.  I played around with the swivel latch in my original design, but couldn't get it to work reliably with the thin door I was using.    I ended up with what I felt was a wonderful idea:   Have a pressure / spring loaded pin push against the door so when the door falls past it, it snaps into place.   After a few tests with a paper clip I upgraded to some heavier gauge wire and now nothing is lifting that door.   If two coons can work together, one of them somehow climbing up to pull on the pin while the other raises the door, then they deserve to get at my flock!
Flagging A Successful Close:
This was just for fun.   As long as I had all these chain reactions going on, I decided to add one more.   Our back door sits parallel to this auto coop door.   We're far enough out that we'd have to walk outside of the house about 150 feet to see if the door successfully closed.   I added a piece of wood with a pre-drilled hole and a screw as a swivel point.   When the door is up, the block of wood with a reflector attached, points toward our door.  A quick shot with a flashlight shows bright red reflection and that the door is still open.   Once the door falls, so does the block of wood and reflector.   At that point the reflector is lying down and can't be seen by our flashlight which means the door has successfully and completely closed!
Sunset Calculator & Setting Door Close Time:
I found a great tool to determine my sunset time on a calnedar.  I noticed that for 10/26 my sunset time was 6:17 pm.   Of course, it is still pretty light outside at sunset so I watched my girls.  Then all were in the coop by 6:23 pm so I set the door to close at 6:30 pm.   I'll watch it again tonight, and if all is well, I expect that I'll be able to maintain 15 minutes past "sunset" as my time to close the door.
Parts:
Car door lock actuator:  a pair on ebay for $11 (included shipping).
Digital Timer: $8.00.  You can get the cheapo rotary ones for $4
AC Adapter: 12 volt, 200 mA.  I have tons of adapters lying around.  This one came from an old portable phone charging base.
Pins, brackets, wood – All were around the house.  A bit of cutting, drilling and bending got me what I needed.
Next Steps:
Slow down the door descent:   It doesn't seem to really bother the girls when the door falls, but I'd like to have a slower fall just to be sure.
Decide if the current design of cutting power by breaking the circuit is a good way to go.  I'd like to use a circuit that gives a quick 0.5 second shot of power.
Make the system portable: I'm powering this with an extension cord from the house.  I'd like to find a way to make everything battery powered.  Potentially using a cheap battery powered alarm clock, some relays, and a circuit or two.  One issue is if I call charge something like a capacitor from batteries to shoot enough current into the actuator to do its job.
Clean everything up:  It would be cool to resolve all the bullet points above and create a self contained, battery powered, easy to mount and easy to set auto chicken coop door closer!
I'm anxious to hear your thoughts and suggestions on this design.   So far I've been watching it work for 3 days and I'm pretty happy with it!    What do you think?   What would you change or add to the design?
UPDATE 11/7/08 – Wow, this thing is working like a CHAMP!  It is such a good feeling to not have to always be wondering "Did we remember to lock up the chickens!?!?"    Also, it really helps out at times like tonight:  We went out for a date night with another couple before sunset.   We stayed out for a few hours past dark and didn't worry one bit about our girl's safety!    Woot!
There's a great discussion at http://www.backyardchickens.com/ about improving this design and some really great ideas about a new design using linear actuators and circuits!  Check it out: http://www.backyardchickens.com/forum/viewtopic.php?id=99668
UPDATE 12/11/08 – You know how people say something / someone was a "life saver"?  Well, I wanted to let everyone know that this simple auto coop door closing system has literally been a life saver for my remaining hens!
Last night we didn't get out to the coop until late.   When I opened the door to go outside I heard scurrying from 2 directions and then I saw them… 1 coon up in a tree and 2 over in the bushes (the 3 remaining ones from the group of 4 that killed our duck and hen a month ago).    I'm almost certain our whole flock would have been dead had the auto door not done its job.
UPDATE 8/11/09 – I've had a couple times over the last few months where I found the coop open in the morning (i.e., it didn't close the night before).   For details see:  Pin didn't pull and door didn't fall
Bottom line:   Automated door closers are fantastic!  I know ours has saved our hens on multiple occasions, but be careful not to get a false sense of 100% security.