I'm sure you guys know about that "middle button" that is hiding underneath your scroll wheel on your mouse, right?  Usually it is set to some useless feature like "auto scroll"…  I mean, come on… who uses auto scroll anyway?   Well, the very first time I discovered that button (and how useless it truly was) I opted to change the default behavior.  Instantly I fell in love with the "minimize all" command and mapped that to my middle mouse button.   Just like many of you reading this, I'm a desktop icon junkie.  I drop anything and everything onto my XP desktop (downloads, new images, stuff I'm working on, etc.) to the point it looks like this: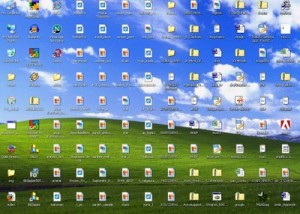 Well, I'm also one of those guys that has about 15 windows open at any given time… browsers, spreadsheets, Dreamweaver, Outlook, Explorer, etc.   I find that I often need to quickly get access to my desktop to edit, move, or upload a file.    Hitting the minimize button on each window isn't an option, and the "Windows Key + D" command just isn't comfortable to me.   So, having the ability to hit a single button where my finger is already hanging out is just super convenient!
Up until a year ago my software allowed me to easily set this middle button, via a pull down option, to one of many things.  Minimize All was there and so mapping that function to the button was just super simple… well, that changed and so this is why I'm writing this post!
A while ago I got a new wireless keyboard mouse combo (a Logitech Cordless Desktop LX500).  I was super happy with it… but wait, what's this: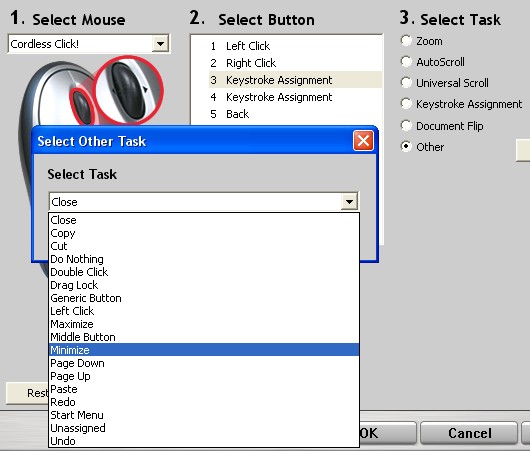 NO OPTION FOR MINIMIZE ALL?    Oh my gosh you've got to be kidding me!
Well, I wasn't going to trash my keyboard for the lack of minimize all, so I resigned myself to simply using the "Minimize" option which just minimizes one at a time.
I can hear you geeky types now, "Just assign the keyboard command "WindowsKey + D" as a "Keystroke Assignment"!  Yeah, well, I tried that about 20 times and the software doesn't recognize the WindowsKey!
Well, today my combo went looking on the net for an upgrade to the software during a periodic update check and found one.   I downloaded and installed with my fingers crossed hoping for an answer to my prayers… but alas, I was left with the same boring options as before.   But this time, there was a difference… I was determined to find an answer, so here's what I did:
First Step:
Find or create the application that minimizes all called "Show Desktop" (instructions on how to create a minimize all shortcut here).
Second Step:
My keyboard allows me to map to a program of file, but of course my mouse does not.   I read the instructions on how to create a keyboard shortcut (bottom of page) to a program.
Third Step:
After some trial and error I realized I had to create a regular desktop shortcut to the "Show Desktop" application (copy it and paste as shortcut) to my desktop.  I then clicked "properties" on this shortcut and assigned ctrl+alt+9 to that shortcut.
Final Step:
Finally, into the Logitech software I went and assigned my Middle Button to the new key command, which triggers a shortcut, that triggers the "Show Desktop" command that actually minimizes all the windows…. PHEW!
If you know of a better way to do this (other then "Hey stupid, get a different keyboard") then please let me know.   🙂