Upside down fire?  I know, it sounds crazy, but it really works GREAT!!!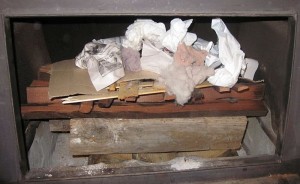 One of the community members on BYC posted a topic called "upside down fire building for wood heat".    I read through the thread and was pretty surprised by the claims:
It is better to build your fire upside down:  Put the paper on top, then kindling under that, then the bigger wood at the bottom.
Seemed pretty crazy to me… I mean, HEAT RISES, right?   When I'm lighting fireworks candles I always try to put the fuse wick above the flame.  I figured this is the same thing you do with fires.   Start it burning at the bottom, let the flames (which rise up) lick the wood above and "I HAVE MADE FIRE!"
So I did some research, and it turns out that there are plenty of believers in this "Build your fire upside down" movement.  You'd think after all those years at Scout Camp, receiving the Firem'n Chit card, and becoming an Eagle Scout, that I'd be fully aware of any and all possible ways to effectively start a fire, right… RIGHT!?!?  Well, in all my research I learned that while heat does in fact rise, the heat radiating from a fire is what really gets things cooking, and since heat radiation flows in all directions, it doesn't matter that each subsequent layer of fuel being ignited is below the one burning.
Ok, so it is an interesting idea, but "so what"?   Well, here are the reasons why many have converted to this new way of starting fires:
As the kindling burns in a traditional setup the wood collapses on itself and can have a smothering affect on the fire.  Also, you don't have the issues with your perfect teepee / log cabin shifting all over the place as the pieces burn and the structure crumbles.
You don't have to keep tending the fire, moving pieces around, adding larger pieces, etc.  You should be able to "set it and forget it" (ok, never do that with a fire)… er, light the fire and not have to "tend" it so much for at least a few hours.
Upside down fires will tend to start with less smoke than a standard fire setup.
It is a very consistent method for starting a fire.
Well, being a lover of experimentation and trying new things, I decided I had to give it a go!
In an effort to do an apples to apples comparison, I did the following:   Tonight I built a fire with the exact same materials and quantity that I usually use when I'm doing the "standard" fire building process.  Usually my "standard" setup is a modified "teepee" or "log cabin" with paper on the bottom, then some cardboard, add kindling, then larger wood on top.   With my "upside down" configuration, here is the order of materials (from bottom up):
Two large splits of eucalyptus
Two medium sized, super old / dry 4×4 lumber pieces
A bunch of old redwood 1 x 12 pieces split to about 1×2
A bunch of the same, but split about 1/2 x 2
Some corrugated cardboard
Misc. newspaper etc.
Here are some progression pictures of the setup:
Two large splits with the old 4×4 on top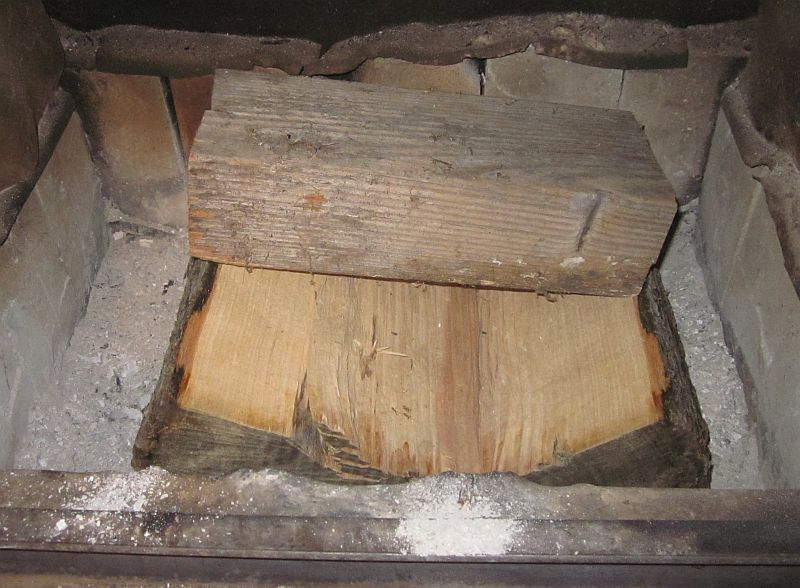 Added the rest of the kindling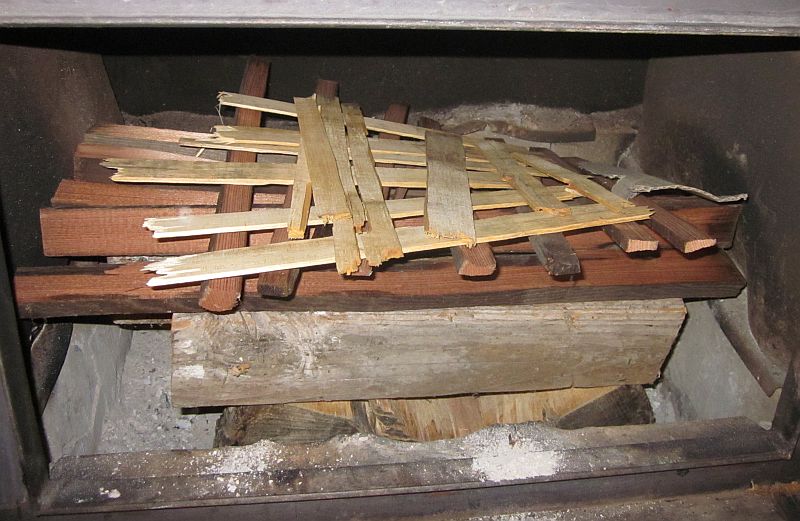 Added cardboard, paper, and some dryer lint (stuff lights up SUPER easy)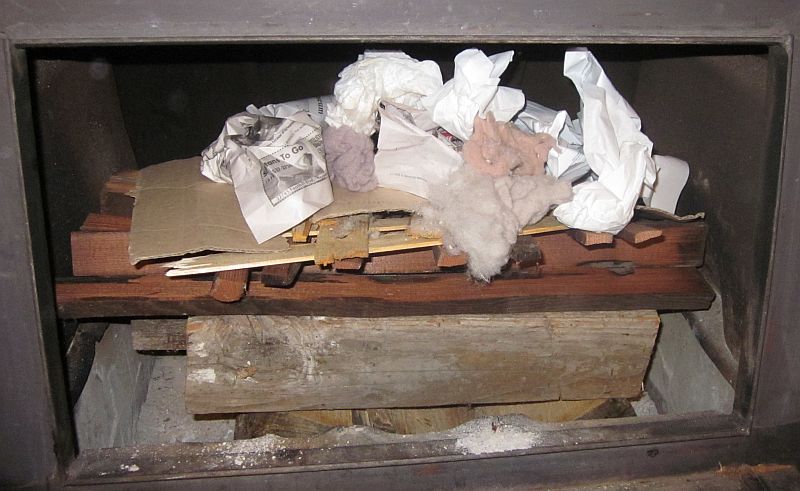 A single light to the "dryer lint" and within minutes things are looking really good!  During each "stage" the radiant heat lights the "stage" below the first.  Also the burnt pieces fall as they burn and help to ignite the pieces below them.
Here is the fire only two minutes after being lit: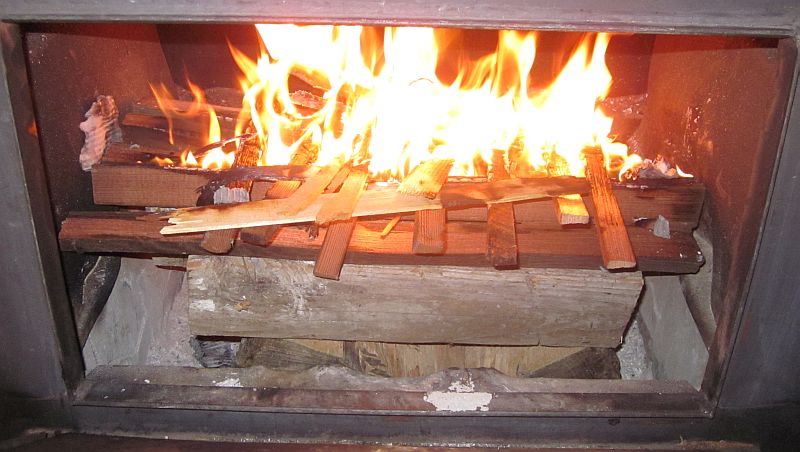 About 15 minutes into the burn and I'm very impressed!  The kindling has taken really well and it looks like the 4×4's are about to take too!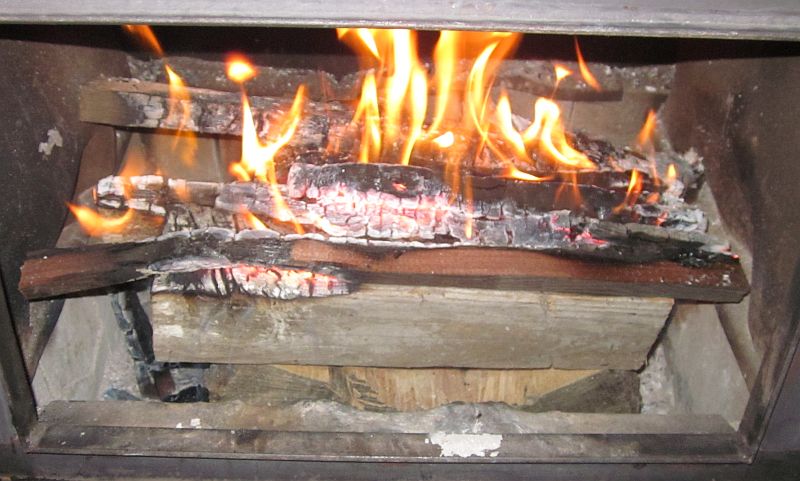 Approximately 35 minutes into the burn and the 4×4's are engulfed in flame and starting the large splits!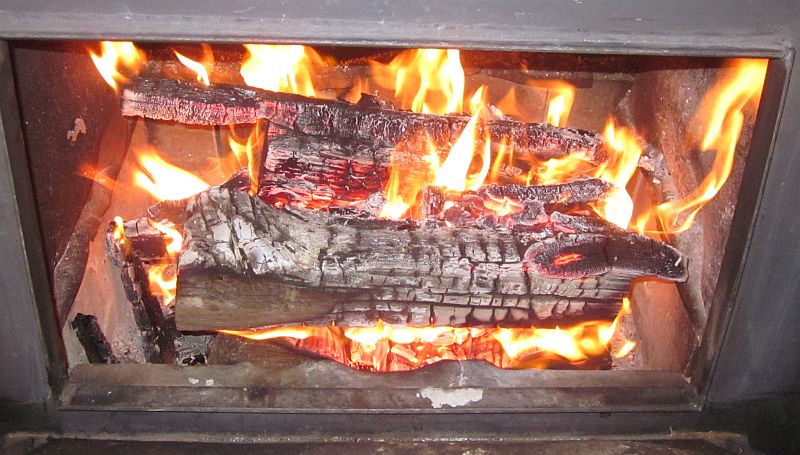 50 minutes into the burn: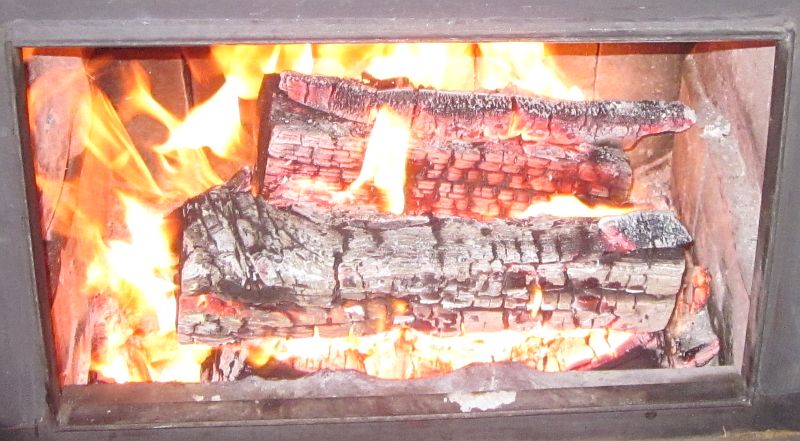 Almost 2 hours after ignition I've got some great looking coals!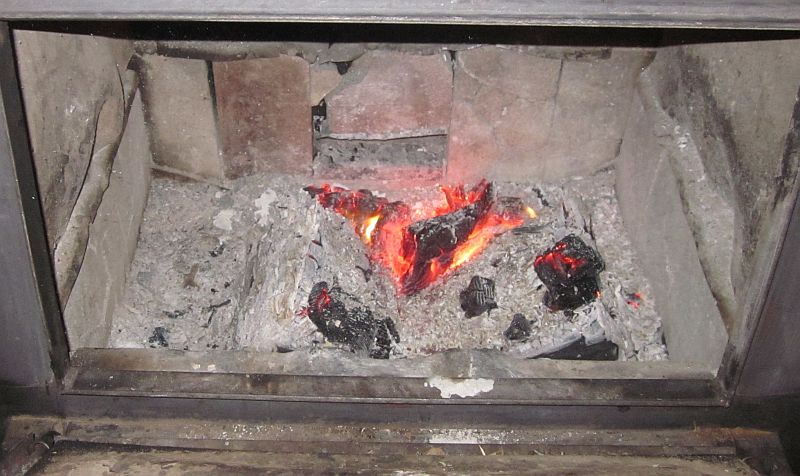 Well, I'm converted to this new way of starting fires!!
I couldn't find any cons to starting the fire this way.  The only thing I noticed is that the fire didn't seem to start up and heat up as quickly as my standard method.    Honestly, it wasn't really an issue and I figured it could be a function of a bunch of factors like fuel, configuration, air intake, etc.    I plan on doing more experimenting with less kindling, different configurations of the wood, and other factors.   I'd be pretty impressed if I can start a super good fire with less kindling than I've been doing up to this point.
By far, all the pros listed in the beginning of this post are spot-on, and I'm definitely starting all my fires with this new configuration!   Please give it a try and report back with what happened!