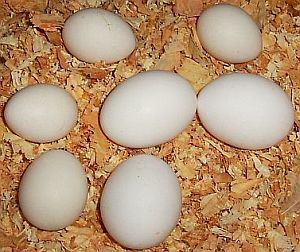 5/3/05
A lot has been happening over the past few days. First I got an email two days ago from the guy who took my 4 original chicks. He said they all turned out as roosters. Here's a picture and here's the story.
Also, yesterday my young black hen laid her first egg.. it looked almost like a duck egg, big and elongated. Look at the bottom of this page
But, the biggest news is that my Buff Orpington started to go broody. My first thought was to "break" her of the broodiness, but then I thought I could get some fertile eggs and stick them under her (I don't have a rooster).
I've only noticed the broodiness the last few days. She was in the box for a few hours the first day and I reached in to get her she puffed up. I pulled her out and set her on the ground. She just plopped on the ground like a chicken bean bag, almost like she didn't have any bones in her body. I've since learned that chickens get in a "trance" when they are broody. She shortly "woke up" and remained outside the coop the rest of the day as she normally would. That night I noticed that she didn't go up on the roost, she just stayed on the floor of the coop, but not in the nest box. The next day I saw her sitting in the nest box again and waited for about 3 hours. I pulled her out of the box and again she puffed up when I got close and when I pulled her out she just plopped on the ground. Fortunately she didn't growl at me or peck as I've heard chickens do.
That night she went into the nest box and stayed in the nest all night and was still there in the morning. She was in the only nest that they all use to lay eggs. I heard that the other hens often just lay their eggs next to the broody hen.
I decided it was time to contact an expert, my friend Chel (a Bay Area friend whom I had met on another chicken website). She gave me some great info and a super offer! Here's what she said:
"Yes, you should definitely put some fertile eggs under that buffy if she is broody. What fun it would be for Alana to see the mommie leading her little chickies around and clucking to them. Be sure to mark the fertile eggs or get some of different colors than your other girls eggs so that you can remove fresh eggs laid in the broody's nest. You can get fertile eggs from me or Wolfey, Im sure. I could give you some darker brown (welsummer and maran) and some blue/green and some smaller bantam eggs so that you could tell the fresh from the fertile. I'll be coming your way in a few days and could drop them off unless you are coming over here."
What a super offer from a great person. I gave her a call and we worked out the details. My wife was set on trying to get a white chicken so we asked Chel what she thought and she made some good recommendations.
5/4/05
Chel stopped by with her daughter and brought us 7 eggs of the following:
3 eggs from a Leghorn hen and a Welsummer rooster
3 eggs from a Black Tailed White Japanese hen and rooster
1 egg that is a "mystery egg"
I promptly went outside to start getting things ready. I thought I'd build a new nest box and put the eggs and the buff orpington in there. That would allow the other hens to lay their eggs in the usual spot. I cleaned out the whole coop, put in a new plywood floor with new shavings and made a new nest box out of a milk crate. I put some old cut-up jeans over the crate to give her some privacy and gently placed the eggs inside.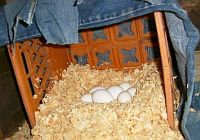 I pulled the Buff out of the nest box and set her on the eggs. She seemed pretty happy, SUCESS!!! or so I thought. I came back about an hour later and saw her outside walking around with the other girls. I guessed she may not be ready to be a mother. Fortunately when I came back an hour later she was on the eggs. SUCCESS!!! well, wrong again. Another hour later I checked and she wasn't on the eggs, but had moved to the other nest box where there were no eggs. I decided not to fight her anymore so I decided I'd move the eggs to where she wanted to be. Here's the funny part. Every one of the other 5 times I moved her I used gloves because I had heard that hens can peck pretty good when they are broody. Each of those times she never pecked, only fluffed up her feathers. I thought, "She's never pecked me before, why would she this time? I don't need gloves." Well, I'm getting good at being wrong, and I got a good peck. I grabbed the gloves, shifted her off the nest, moved the eggs from the new nest and put them in the old nest then shifted her back on the eggs.