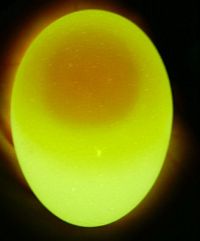 Recently one of my chickens went broody. You can see the story here. I decided to put my egg candling experience on a separate page, so here it is!
Here are the eggs I'm candling: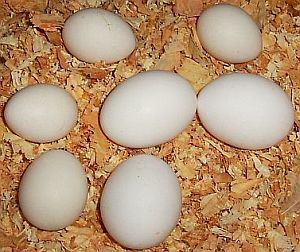 5/6/05
I've had the eggs since 5/4/05. We're not sure how old they were when they arrived, but we were told that they wouldn't really start developing until a hen was sitting on them which was two days ago.
Here is how I'm candling the eggs: I take my super high powered LED flashlight and cup my hand to make a tunnel for the light to pass through. I put the flashlight against one side and the egg against the other. It is quick and easy. Below is Alana showing me where the egg is suppose to be: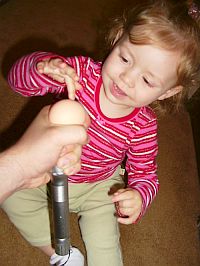 I've never done this before so I wanted to candle a store bought egg to use as my egg candling benchmark.
| | |
| --- | --- |
| Store Bought Egg | One of my fertilized eggs (a few days old) |
Here Is my Egg Log. Remember, I'm not exactly sure how old these eggs are, so I'm going to say that Thursday, 5/4 is Day 1 (the first day she was on the eggs all day).
My camera started to have a very hard time focusing on the eggs after day 3 so all the pictures came out too fuzzy to post. If / when we ever do this again I'll be sure to use a better camera and take some better pictures
5/8/05
Today is Mother's Day! What a great day to candle eggs and see if my hen is going to be a mother. I candled all of the 7 eggs. The three big eggs seem to all have well formed webs of veins. The 4 smaller eggs didn't seem as developed, but all of them had what looked like developing chicks. We actually saw a tiny little beating heart in one of the large eggs. I tried to take a video, but it didn't really come out very well. I've been reading that some people don't like to handle the eggs too much, so I'm not sure if I'll continue to candle every day. Curiosity may get the best of me though.
Here is a pic of one of the tiny eggs: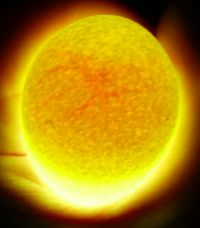 Oh, today at church a friend (the one who gave us our original chicks) mentioned that one of his hens was broody and sitting on some eggs. One of the eggs exploded under her (eggs get bacteria in them which grows and builds gass / pressure) and so they discarded all the other eggs. They went to the feed store, picked up some chicks and put them under her. She didn't miss a beat and raised them as her own. If things don't work out with our chicks maybe this will be a good option for us.
5/15/05
I took out all the eggs again and carefully candled all of them with my wife. Good news: we verified that all 7 eggs have moving little chicks inside. So far so good! One of the smaller eggs had an embryo that was moving so much that we decided to take a video. See the video below of the chick moving around. Look closely and you can probably see some little feet kicking!
5/18/05
I tried to candle three eggs yesterday and I didn't see a fraction of the movement as I had in the videos. I'm hoping it is because it is getting too crowded in the egg to do the chickie boogie and not that they are sickly / quitting. It did seem that I saw more of a chick silhouette in the egg which is pretty cool. Another thing I noticed was "floaties" in the egg. Pieces of something that was floating / sinking independent of anything else. I wonder if this is normal.
5/23/05
We pulled out all the eggs tonight to candle them. It is probably the last time we will candle them since they will be hatching in a few days or so. The eggs were VERY dark except for the air pockets at the big end of the eggs. A few of the eggs looked as though a little bump was protruding from the dark mass into the air pocket. We looked closely for movement in each egg, but it was hard because they were so dark. For the most part every egg seemed to have at least a little bit of movement. One egg was especially dark and as I was rolling it to look for movement my wife pointed out a tiny little crack that looked like an X on the egg. This is so exciting!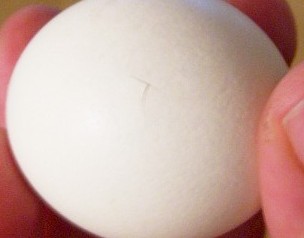 For the rest of the story go HERE!
Please visit my site http://www.backyardchickens.com/ for a ton of great info on raising chickens.
Also, register with our 45,000 member community of chicken addicts: www.backyardchickens.com/forum/