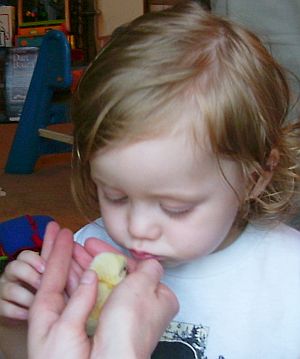 5/24/05
An hour ago my wife and I decided to go outside to see how our girl was doing. I was horrified to see a broken egg in front of the nest. It looked like something had torn its way into the egg… but wait a minute, maybe I'm wrong. I gently lifted up my hen and to our amazement we saw two tiny little puff balls hiding under their mom's wing. Upon even closer inspection we saw another VERY new chick that was still very wet all curled up in a ball.
| | |
| --- | --- |
| | Our best guess is that the top two yellow chicks are the Black Tailed White Japanese (from two small eggs I found).Since there are two more small eggs that haven't hatched I'm guessing the fuzzy thing towards the bottom of the screen is one of the Leghorn / Welsummer chicks.It's a good thing that I decided to candle the eggs last night instead of tonight and that I made all the changes I did to the coop and ramp yesterday. It is amazing to think that just 20 hours ago we were holding these in our hands as little eggs and looking inside! |
Alana welcoming her new baby "chick chick" into the world with a kiss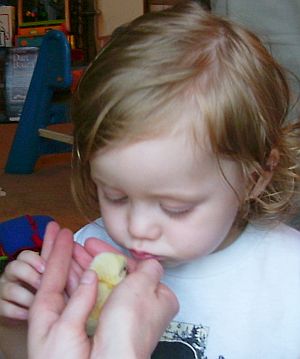 5/25/05
This morning we looked and unfortunately one of the chicks didn't make it. We think it was the one that was all curled up in the picture above. I looked about 1 minute ago and I saw 4 very vibrant chicks, one sleepy, still slightly damp chick, and one that just came out of the egg. If those last two make it then we'll have 6 chicks! Crazy to think that we just doubled our flock. Here are all six (can you see the tiny new one on the right?):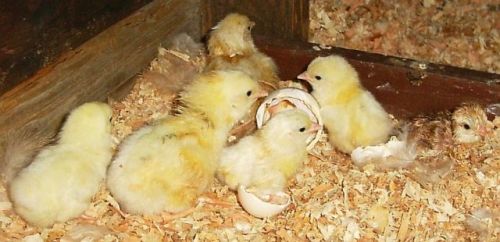 5/25/05
More bad news: We checked and the little one to the far right of the picture above didn't make it. So far it seems that we only have one of the leghorn / welsummer crosses left. We hope it's a girl. Here is a post mortem picture of the two chicks. One still has the "sack" attached. It is so sad to think that they made it all the way to breaking free of the egg and then died. If we lost them while still in the egg it wouldn't have been so sad.
On the bright side we still have some very cute little chicks. Check out these pictures: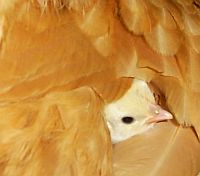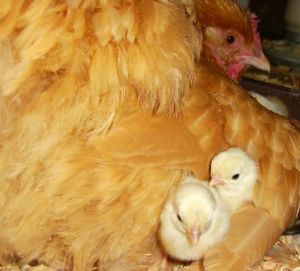 626/05
A really quick update.  I've found 5 eggs the past 3 days, so either a few girls are doing double duty or my Buff Orpington mother is laying again!
Updates on the way..