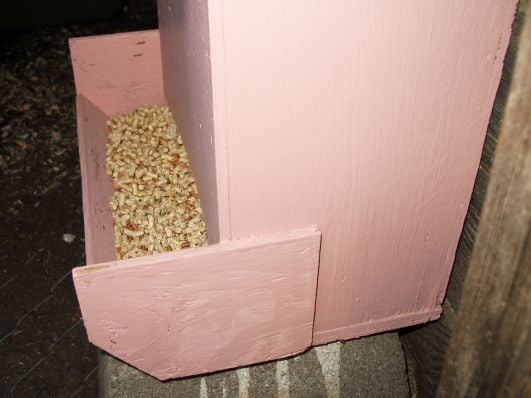 When my wife and I were thinking about getting chickens one of our concerns was how difficult it would be to care for them. I've got friends who completely "baby" their chickens (e.g. chicken diapers, baths, cleaning their watering dishes daily with bleach, etc.). I've also got friends who barely even deal with their chickens other than to make sure they've got some food and some water (no matter how dirty). I wanted to find a good balance between these two extremes, between fanatical and neglect.
One of the big "chicken care" questions was regarding food and water. I wanted to automate this process as much as possible.
WATER:
I looked into quite a few different solutions for getting water for my girls. One of those was to setup a nipple watering system. The pro's of this system were:
1) They wasted less water.
2) They took up less floor space.
3) They didn't fill up with dirt, feathers, leaves, shavings, etc.
The biggest cons of this system were going to be setting it up and training my girls how to use it. After buying a few of these nipples and testing them I decided I'd try something else.
I saw some automatic poultry watering systems at the feed store but they were pretty expensive. I found something at Wal-Mart that works just as well and have been VERY happy with it. It is a "Never Dry Auto-Wata" system for dogs. It was only $12.78.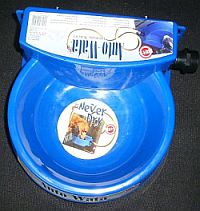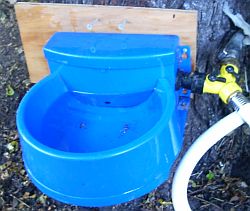 FOOD:
NOTE:  This feeder (dubbed Frankenfeeder) is the perfect example of function over form.  It worked great in all of it's hideous glory!  Below is an update with the new homemade chicken feeder I'm currently using (a bit better looking, more functional, larger capacity).
I saw a lot of different feeding systems and couldn't decide what to do. I had a few extra mason jar feeders and thought I'd attempt a modification to one of them. If it didn't work then I'd go out and buy something.
I took the mason jar feeding attachment and a small plastic peanut butter jar that was the same size as a mason jar. I cut the bottom off of the jar and attached a bigger peanut butter jar to the smaller one. I cut out the bottom of that one and took a long piece of A/C conduit and funneled the end a little to fit into the larger peanut butter jar. I then cut out the bottom of a big plastic container and attached it to the top of the conduit. Finally I cut some holes into the conduit and plastic container and threaded through some wire. This wire would support the majority of the weight of the feeder and take pressure off of the jars. I really like this feeder because it was cheap, takes up very little floor space, is easy to refill, holds a lot of feed, and oh yeah… it was cheap! I haven't kept excellent track, but it seems that I only need to refill this feeder about 1-2 times a month. To the right is the finished product. It isn't pretty, but is works GREAT!!!
Another idea I had was to add a tin pie plate nailed to a piece of wood that would catch the food as it is "billed out" by the girls. This keeps a substantial amount of food off the ground and from being wasted. The wood and the nails also help keep the feeder in place and from falling off of the cement block it is resting on. Below is a closer look
Additional Notes:
My chickens spend most of their day free ranging in a large section of the back yard.
The automated water system is outside of the coop / run.

I've got the feeder in the chicken run with a gallon waterer. I need to refill this waterer about every two weeks.

I feed my chickens old wheat from food storage and day old bread I get for free from the local supermarket. I also give them piles of worms and bugs from my compost bin. I haven't noticed any decrease in egg size, frequency, or quality, but I have noticed a HUGE drop in the amount of feed I have to supply. This is wonderful since chicken feed in the city is about $14 for a 50 lb. bag.

I decided to do a test and didn't give my girls any bread, wheat, worms and they weren't let out of the run as much. They went through the whole feeder full of layer pellets in about a week!
UPDATE 9/15/07
I finally upgraded my "temporary" feeder so something a lot bigger and hopefully a bit nicer looking.  You can read all the details here:  HomeMade Chicken Feeder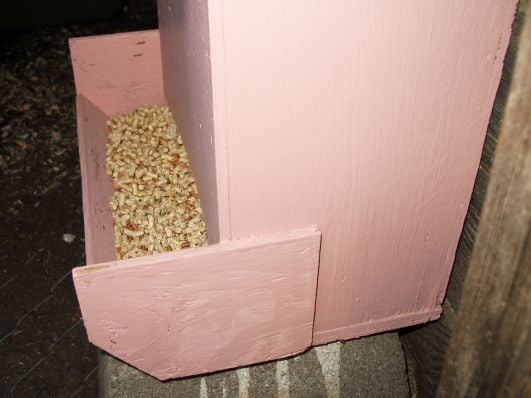 UPDATE 12/2/09
My system has been working great for years.  There were only two problems I've had:
Waterer: The white supply hose going to the auto chicken waterer split open and gave our yard a good soak.  I'm not sure if it was a weak spot because of a kink or if maybe a thirsty rat wanted a drink.   A $2.75 hose mender and 10 minutes later everything was fine.
Feeder: During a really bad storm some sideways rain got into my wood feeder… what a mess!  I took the whole thing apart, scrubbed it out with bleach, let it dry really well and painted it all over an put it back together.  Of course I also made sure that there would be no way water could get at the feeder again!
Please visit my site http://www.backyardchickens.com/ for a ton of great info on raising chickens.
Also, register with our 5,000 member community of chicken addicts: www.backyardchickens.com/forum/