In the market for an easy to refill inkjet printer? Here is my recommendation: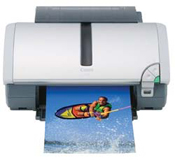 Long story short: Get the Canon i560 or Canon i860 inkjet printer. (NOTE: up-to-date info at bottom of page)
I've had years of experience refilling inkjet printers. My very first experience refilling was with the HP 500c and let's just say it wasn't my best experience ever. I had almost given up on refilling and had almost given myself to a life void of color until I got my Canon BJC-1000! Not only was it easy to refill, but I refilled my cartridges about 20 times each! Only problems were:
I had to swap out the black cartridge if I wanted color, and

the resolution wasn't very high.
My next printer was a Lexmark Z32. I actually ended up with a few of these printers and about 60 half empty cartridges (returns from a QVC printer sale & returns). I refilled the cartridges, tested them and sold them on eBay. It was a bunch of fun. Everything seemed fine until I started to notice that the color cartridges kept on having problems. At first it was more clogged inkjet head nozzles than usual, but that was usually fixable. The bigger problem was when all of a sudden the printer would stop and I'd get double blinking lights which turned out to mean that the copper contacts on the cartridge were bad. There was nothing to do now but toss out the cartridge. I dealt with these issues for about a year and then thought "There's got to be a better way!?"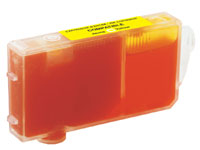 I started my trip of extensive research. My goal: to find the easiest to refill inkjet printer. One that was durable with a very high success rate of refills. Print quality was my second objective. First I called about 5 of the retail inkjet refill franchises to ask them what cartridges they had the best success with. I figured they would know better than anyone. The answer was Canon #1 and then HP. Specifically I was told that the BCI-6 and BCI-3 cartridge series were best because:
Individual ink tanks

clear ink tanks (so I can see how much ink is really left).
I scoured the web looking for recommendations, I didn't find much, but what I did find were a couple very specific recommendations from refillers: the Canon i860. My next mission was to learn more of this printer. I discovered the i560 is the little brother of the i860 but pretty much the same. The 860 has one extra ink color, the BCI-6bk which is a DYE based black for better image resolution since the pigment black BCI-3e doesn't mix with the dye based inks in a photo. In the 560 the three colors mix to make black. (Click here for The Difference Between Canon BCI-3 and BCI-6) Well, I'm AMAZED at how well this printer prints! The pictures I printed on the Canon 4×6 paper came out just as good as the ones printed professionally. I actually took my print and another of the same picture printed at Sam's club and showed them to people… they couldn't tell which was which! Crazzy! I've refilled my cartridges a few times already and boy is it easy. The only "problem" is sealing the hole after you've injected the ink. I'm using sticky-tac right now, but am getting a new refill kit in a few days with better tools / seals. For the non-refillers this is still a great printer! You can get off-brand non-OEM cartridges for way less than the Canon ones. My brother got some off brand ink tanks for his i860 and I went to his house to run some controlled experiments. We took a very high resolution image from his company logo (Ug from http://www.homevestors.com/ ) and printed it on a glossy sheet of paper. One picture with the OEM inks (that came with the printer) and one from the off brand ink cartridges When we were done I couldn't tell the difference between the two prints. Be cautious, not all inks are made the same. I've heard horror stories of terrible inks. Make sure your supplier of ink and cartridges uses high quality inks so you don't gum up your printer.
BOTTOM LINE: The i560 / i860 are GREAT printers! They are fast, sharp, have individual ink tanks, cheap ink cartridges, and are easy to refill.
UPDATE 10/4/04: I've been refilling this printer a lot and here is what I've noticed:
This really is the easiest cartridge to refill!

It is still a little tricky to seal the cartridge after drilling a hole and refilling. Everything I've tried is either too permanent, or doesn't make an air tight seal, or leaves a sticky residue (electrical tape, sticky tak, etc.).

The aftermarket cartridges I purchased have a plug in the refill hole that is replaceable and make re-sealing the cartridge easier.
The aftermarket ink I've tried so far works great in photos and with black prints, or color prints. Unfortunately I run into a problem when I am printing the pigmented black (BCI-3) right next to a dye based color… especially yellow. This causes a lot of bleeding from the black into the color. The only way to solve this is to set the printer to print on "photo paper mode" even when printing on regular stock. This causes the printer to change from bi-directional printing to single directional printing which allows the ink time to dry and solves the bleed problem. The only concern is that 1) it takes longer to print and 2) there are twice as many passes for the printhead to take causing more wear and tear on the mechanics of the printer. I've been in touch with the ink supplier who is sending me some other inks to try.
UPDATE 3/20/07: I received an email today saying, "Hey Rob, Isn't it about time to update the "Best Printer for Refilling" page. The i560 and i860 have long been unobatinium or have to risk buying a used printer that is several generations old off eBay, etc. The iP3000 and iP4000 are at least as good as the 560/860, but they may as well be unobtainium as well if you've seen the prices they go for on ebay (they have long been out of production – now two generations old). I suggest you look at the iP4300. Granted you have to put up with the chip transplanting, but at least they are available at a reasonable price ($80. after MIR this week at Staples), you can refill the ink tanks just as easily as the predecessor (or buy 3rd party tanks) and the output looks just as good."My reply, "Excellent points! Since opening up the inkjet printer forum, www.nifty-stuff.com/forum , I've relied heavily on people getting their recent information about new printers from the members in the community. You are correct, I should update my page. I agree that the ip3000 / 4000 and even the MP models are great printers, but I'm not yet at the point to recommend the chipped versions."
UPDATE 11/04/07: I never posted two updates but thought I would now. 1) I was at Fry's Electronics about 2.5 years ago and they had a bunch of i560's on sale for $39 each. The cartridges alone were worth that much so I had to buy 4 of these. I sold a few of the carts on eBay and sold 2 the printers (with aftermarket / non-oem cartridges) at a garage sale. Unfortunately I can't pull together the strength to sell the last two printers. They are really old models now but the i560 is a great workhorse and so easy to refill. 2) I saw a Fry's Electronics add about 2 years ago which had the MP750 (scanner, copy, printer) for a fantastic price. I was due for a new scanner and even though I always swore to never buy a multipurpose machine I couldn't pass it up. I noticed that this printer takes the exact same printhead as my i860 so I simply left the new head in the foil and moved the head from my i860 over to my mp750. Now I've got a new printhead if I ever need it. I've been VERY happy with this multipurpose machine. The only problem I've had is that sometimes when it copies / scans I only get a full page of gray. I have to reset the printer and sometimes it works, sometimes it doesn't.
UPDATE 9/13/09: Well, a few weeks ago my Canon MP 750 returned a "wrong cartridge error". After a bunch of attempts to get the printer working again I decided this was a sign to do something I've wanted to do for a while. Long story short I swapped out my Canon MP750 all-in-one and my Brother HL2170 Laser with a Brother MFC-7440N all-in-one and one of the Canon i560's I've been storing for years. The whole story can be found here: www.nifty-stuff.com/forum/viewtopic.php?id=4225
This article is pretty old and a LOT has chanced over the years regarding printer technology and availability. If you want the latest info check out our printer forum!