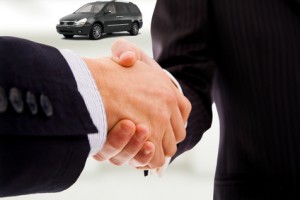 11 years ago I did what I never thought I'd do… I bought a new car.  I wrote a blog post about my new car purchase calculator and how I made the decision on which car to buy.
Well, I went through a similar (but considerably less detailed) process again recently when buying our new family van.   I still usually hold to my theory that many people shouldn't be buying new cars because of the depreciation right off the lot.  With that said:
1.    I hold onto cars for 10+ years usually
2.    I buy cars that are usually pretty inexpensive and have good value (see my anal calculations on my Hyundai Elantra 10 years ago: http://www.nifty-stuff.com/hyundai-purchase.php )
3.    I absolutely 100% HATE mechanics and worrying about getting ripped off. I'm willing to pay a premium on a car with a great warranty, even if I have to take it in more often, as long as stuff is covered.  My 2001 Hyundai Elantra I got in 2010 is a great example.  5 year bumper to bumper, 10 year powertrain.   I only had to take it into the dealer a couple of times and everything was covered.  I still have the car 11 years later and it's still doing GREAT.
Again, I HATE mechanics! I remember a friend who was a retired mechanic said:
"9 out of 10 mechanics are crooked, and the 1 guy that isn't this time will either go out of business or be forced to be crooked the next time."
When looking for our new van I only had a handful of manufacturers and models I was looking into.   Since we've been VERY happy with our Hyundai Elantra we were initially looking for a Hyundai van.  Turns out they only made the Entourage for a few years and it was basically a Kia van (Kia is owned by Hyundai) branded and made for Hyundai.   So, our final choices were Kia Sedona,  Honda Odessey, and Toyota Sienna.   I ran into the same questions and answers with the Honda's and Toyota's that I came across with my car purchase:   These two manufacturers have a great track record, but their price premium reflects this and their warranties are pretty short.   After some basic research we decided to go with the Kia Sedona… better price, more features, and a longer warranty.
The Purchase Process:
I was SUPER tenacious when I purchased our van.   I totally played the game and outlasted their attempts to squeeze me.  I even did the "walk away" game which really changed the tone of the negotiations.
Before I went into the arena with the sales person I had a TON of info on hand, including some great offers from dealers on www.carwoo.com  (now owned by Trucar).   I was able to use these dealer's offers, plus all the price research I did at places like Costco, Truecar.com, Edmunds.com, KBB.com, and others as a baseline for negotiations.
I'm not a super negotiator, so I needed to get some basic skills ready before heading into the dealer.  This video helped a lot (and is a fun watch):
Empowered with new negotiation tactics I was ready to go!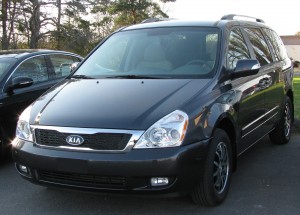 We visited about 3 different dealerships in the area trying to find the color, feature, and price combo that we wanted, and nobody had what we were looking for.   I guess all the dealers have some system that tracks where the new inventory is and where it is going.    From what I understand, they can make requests for specific inventory, but it has to be available – and nothing was that even came close to what we wanted.
We were about to give up on the search but then the dealer closest to our house called and said the exact model / color was on their lot.   It either wasn't in their system or the color was entered wrong in the system which is why nobody knew it was coming.   We told them we'd be over the next day.
My family and I went into the dealer around 10:00 am on a Saturday.   We test drove the car and then started the process.   I gave my number, they said there's no way they could do that, I held firm, they offered other incentives, trade-in deals, warranty deals, etc., but the total price was still too high.   After 3 hours of this my family's complaints started getting louder and louder… they were starving for lunch… and this is where things got VERY interesting!
I told the sales person that I had to leave and get my family some food.   The sales person said, "Go ahead and send your family and maybe they can bring you something back?"  Sure I could have sent my wife to get food, but this was my big "walkaway" moment!    She knew if we left there was a very high chance we wouldn't come back and all those hours were lost.   I said, "No thanks, I'd like to go with them."
Sales response:  "Ok, how about you take the van and pick something up?"
Obviously if I took the van they knew I'd have to come back, and they'd still have me.   My response, "No thanks, we'll take our car."
I could tell that the sales person was starting to get a little panicky:  "Um… how about we go buy lunch for you and bring it back?!?"
Me:  "No thanks, we're fine to go get it ourselves in our car."
Sales:  "Ok, but before you go, let me get my sales manager…"
Ugh… here come the big guns!
A large older man came into the office and said, "I understand we're having a hard time coming together on a price for the van."
Me:  "Ya, it's been taking a while so we're going to go get some lunch."
Him:  "Ok, what do we have to do to make this deal happen right now?"
… now we were in business!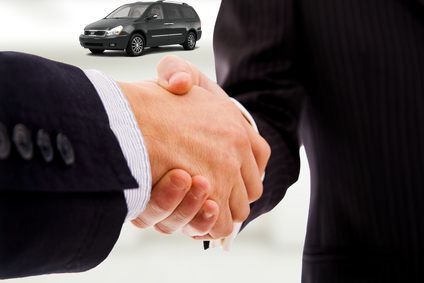 Here are the stats online for prices:
| | |
| --- | --- |
| MSRP | 32490 |
| Invoice | 30300 |
| Market Avg | 27806 |
| Dealer Cost | 25424 |
The baseline price I was shooting for (based on all the various sites mentioned above) was around $26,000.
Here is where we ended up paying for our new van, a Kia Sedona EX:
| | |
| --- | --- |
| 2012 Kia Sedona | 28500 |
| Rebate | -4000 |
| Price After Rebate | 24500 |
| Taxes, etc. | 3000 |
| Out Door | 27500 |
| Mazda 5 Trade In | -6000 |
| Extended Warranty | 1000 |
| Final Out The Door | $22,500 |
Two areas where I did something I never expected:
Trade-In:
Based on my research we probably could have privately sold our Mazda 5 for $7,000.   It had some paint damage, cracked window, and some weird issues where the battery would just go dead even though the battery was tested in fine condition.   If I traded it in I'd be leaving $1,000 on the table, but the thought of just being "done" and not having to deal with selling the car and feeling bad about the condition and the person being upset about the purchase felt surprisingly good!
Extended Warranty:
I NEVER buy extended warranties on stuff, but during the multi-hour negotiation with the dealer I gave in to a warranty as part of the larger deal.  The main reason:  over the life of the car the cost for this warranty was negligible and even if it is a false sense of security, it was worth it.  Here's the warranty I basically paid $1,000 for:
Company: "Motor Warranty Services of North America"
Plan: "Platinum Plan" (basically is suppose to cover pretty much bumper to bumper for 10 years)
Cost: $1,000 (supposedly they try to sell it for $4.5k and online I've read if you can get them down to $2k you've got a good deal)
I've read some horror stories about these warranty companies piling up new accounts and then going bankrupt right before the majority of people start making claims.  Again, I'm not sure how helpful the warranty will be, but for $1k I felt it was worth the gamble and (potentially fake) warm-fuzzies I get from thinking I won't have to shop for a mechanic for 10 years.
Not including the trade in and taxes, fees, etc., I got the van and the warranty for $25,500  which is $500 under my target price and $2,000 under the "market average"!
So, what do you think?  Did I get a good deal?  Did I go through a decent process?   What's been you car-buying experience?