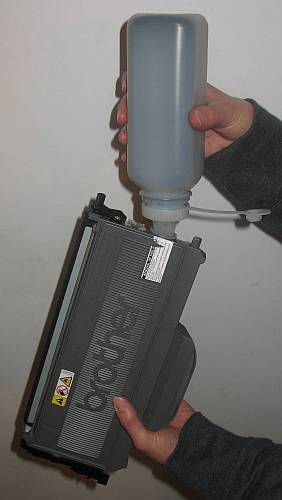 My Experiences With Laser Toner Cartridges (Refilling and Remanufactured)
I've decided to chronicle my experiences with laser toner cartridges over the past few years. I've had a hand at refilling toner cartridges and have also used remanufactured (refurbished) cartridges. 
My first experience was refilling an HP toner cartridge at one of my past employer's. The company was on a shoestring budget and I felt like this could be a good way to save us some money.  I purchased a refill kit online that contained instructions, toner, a tool to burn a hole into the cartridge (simply a soldering iron with a copper tubing end cap) some aluminum tape to cover the hole, and a special toner cleaning cloth.  It was a pretty easy process but potentially pretty messy… if you're a first timer be sure to do it outside.  I was able to get at least 3 good refills with this kit for the HP toner cartridge I was refilling.
In August of 2005 I noticed my cartridges for my personal printers were having problems so I purchased remanufactured cartridges for my Laserjet 4 and 6P  on eBay.  The prices were amazing, almost the lowest I could find anywhere.   You could also try toner refill here.
The 6P cartridge worked flawlessly, but I did have some issues with the other cartridge. The first LaserJet 4+ they shipped was either sent broken, or broken during shipment and the mylar / metallic bag the cartridge was shipped in was full of toner.  They promptly sent me a new cartridge at no cost.  This cartridge was in good shape, but the first prints had a bit of image ghosting.  I think it was because I had the intensity set too high on my printer.  After adjusting a few settings the ghosting went away.  I used this printer a lot and about 7 months later it started to say "toner low". Around that time I also started to get a vertical line down the far side of each page printed.  I believe the wiper in the cartridge went bad.
Well, it was time for another cartridge.  I was in a hurry so I thought I'd give Cartridge World a try.  I've heard good things about CartridgeWorld and have spoken with the owner of a local franchise a few times.   I exchanged 5 of the HP LJ 4+ cartridges I had sitting around and he gave me a good deal on a new cartridge.  Even after the deal the price was still 50% higher than ebay cartridge, but I'm expecting the quality to be much higher.
When this cartridge dies I think I'll give refilling a try.  There are two main reasons for this:
1) To save some money
2) To really test how well Cartridge World remanufactures their cartridges.
The only issues with refilling is first knowing if the toner is a quality product, and second I don't think I'll be able to exchange a toner cartridge with a hole melted into it.  🙂
I'll update this page as I continue experimenting.  Until then, you can read more about toner cartridges on my forum here: Printer Forum.
Update: 6/2/07:
I ended up printing 10,468 pages with my Cartridge World cartridge.  Toward the last 300 pages I started to get light prints and so I played the "shake the cartridge" game to the point where I knew it was time to refill.  I used some toner from, you won't believe this, a few bottles of toner I had purchase back in 10/2004!  I was almost reluctant to use the toner since it was about 3 years old, but I had kept it in a dark moderate temp place so I thought I'd give it a try.  Well, I've printed 1,200 prints with it and so far so good!
I'm not sure if this is a testament to the quality of the Cartridge World remanufactured cartridge or the quality of the toner I used, but my guess is that it is a combination of both.  Once this cartridge gets to the point of death I'll probably go back to Cartridge World for my next cartridge… do you think they'll take my abused cartridge with a refill hole in the top? Probably not. 😉
Update: 4/08:
My HP Laserjet 4plus had been a wonderful workhorse, but it began to have feeder roller issues.  Instead of spending hundreds to fix an old printer I purchased a new Brother HL-2170W from Costco about 4 months ago.  The printer had given me the "toner low" message even though the prints were super sharp.   I don't like it when a printer tells me it is time for a new toner cartridge, but I've read that these cartridges actually use toner as a lubricant so running them dry could break things.   Anywho… I purchased a toner refill kit on ebay that included two bottles of toner for $16.   Instructions said to completely empty out any old toner before adding new toner.  What I like about the Brother toner cartridge is that it has a plug that I just pull out to access the tank… no plastic hole cutting / burning!   Well, I dumped out the toner… a LOT of toner and then refilled it with the stuff from ebay and replaced the plug.   So far I've printed at least a thousand pages and things look fantastic!
Update: 9/09:
As I mentioned in the printer forum my inkjet All-In-One died.   I decided to buy a laser multipurpose machine to replace it.  I opted for the Brother MFC-7440N which is network ready… which also makes my wife happy because she can now print, copy, scan, fax without me having my computer on!   This machine takes the exact same laser toner cartridges as the Brother HL-2170W printer: TN330 or "high capacity" TN360 .
Update: 12/10:
I just refilled my Brother laser printer with another toner refill from www.InkOwl.com.  I've been using them since 2008 and have been very happy with their products, service and prices.  They also have some great printer refill videos on YouTube.