HomeMade Monitor Wall Mount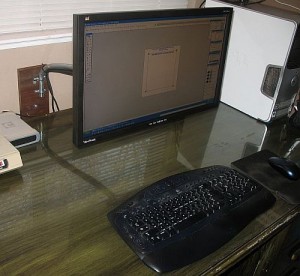 A week ago I decided to upgrade to a new 23″ flat panel monitor (since I spend about 80% of my waking hours at the computer).  I was thinking about buying a wall mount, but I discovered two problems:
Most didn't extend from the wall as far as I needed (about 18 inches)
The prices for the ones that extended only about 13″ were $60 + 
Here is my setup before I started: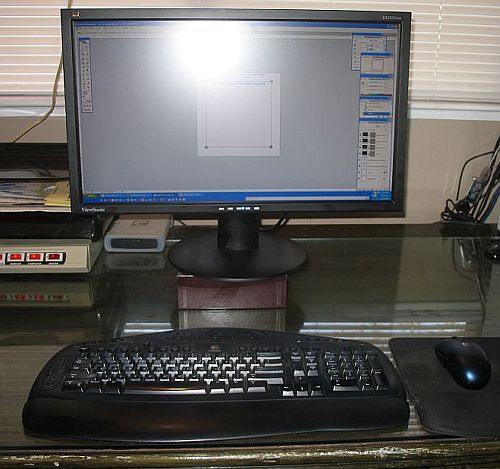 Well, once again my overwhelming impatience and desire to do-it-yourself won over.  I did some internet searching and was surprised there weren't a lot of homemade monitor wall mounts out there on the net (at least few I could find).   I did stumble upon this one, but I didn't need fancy articulating arms, etc.  Well, while I was laying in bed about to go to sleep I came up with a few ideas (as often happens).
My first idea was to have a two 3″ pieces of 1/2 inch pipe, one for the wall and one mounted to the back of the monitor.  Then I'd bend a 2 ft. piece of rebar into a z shape which would fit into the pieces of pipe.  At the last minute I opted for just going with a bent piece of pipe by itself which would fit into brackets.   Here are the supplies I used:
2 ft. long piece of 1/2 inch (diameter) electrical conduit
4 – 1/2 inch brackets
4 – M4 .70 pitch metric screws (about 1.25 inches long)
8 washers
8 wood screws
1/2 pieces of scrap wood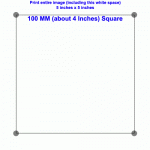 The first thing I needed to do was to find a way to attach the brackets to the monitor.   I created a diagram based on the 100 mm square holes for the VESA mounts (100 mm VESA Mount Template).  To the right is the image I created.  I simply printed the sheet at 5″ x 5″ exactly (including the 1″ white border) and taped it to my board.
From there I pre-punched the holes with an awl and drilled all 4 holes with a 3/16 bit.  (I also countersunk the holes on both sides)
This provided a perfect backing for the VESA mount on the back of the monitor where the M4 screws would fit.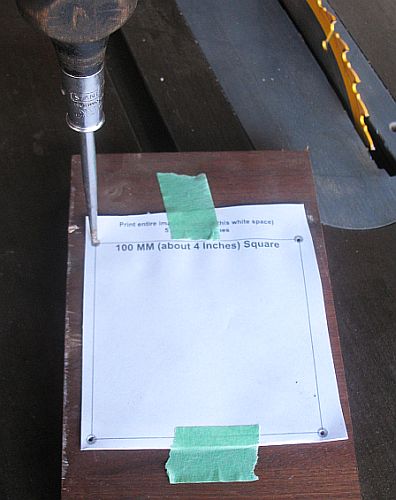 The metal Arm:
This was one of the more complex parts of the project.  Fortunately I had a 1/2 " bender on hand, but I discovered that the bend radius was so long that I was using up much of my pipe.  I ended up doing a mix of using the bender and the vice to get the angles I needed (You'll see in the pics below).
Working with the metal arm to get it just how I wanted was a bit of work.  Make sure you get 100% level bends or you'll end up with my problem… when the monitor is rotated it is a bit off center and not level.
Next, the brackets:
The 1/2 inch brackets are meant to hold the conduit very snugly, but I needed at least a tiny bit of play so I could insert & remove the whole thing.   I was able to solve this problem by bending out the brackets ever so slightly and then putting a 1/16″ washer between the bracket and the wood.
I attached one bracket to the wood that would go on the back of the monitor and inserted my metal arm and then attached the other bracket and made sure it had just the right amount of play.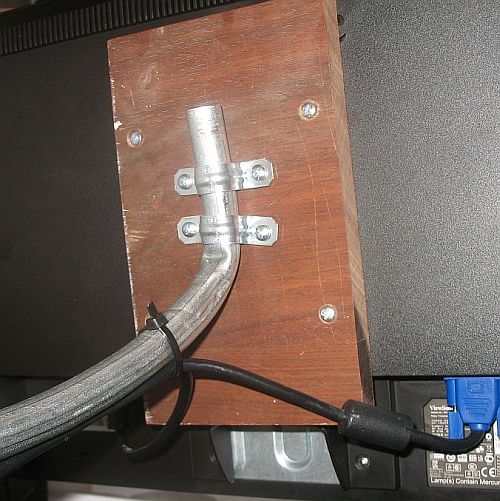 Next I found a stud in my wall (what a pain that turned out to be) and used 3″ screws to mount the other board.   I propped up my monitor to a height I wanted and then put the metal arm in place and fastened the other two 1/2″ brackets with screws and washers just as before.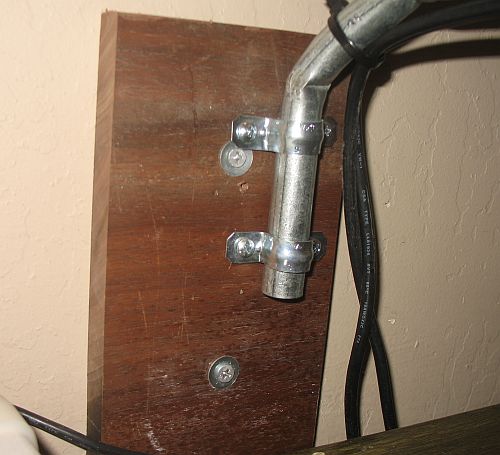 It took a few adjustments to get my pan and tilt just right, but I'm pretty happy with the results:
(click for larger version)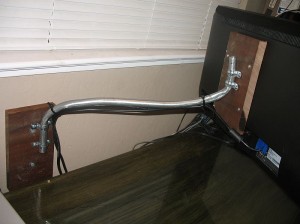 Here is the monitor swung completely out of the way… I've never had so much desk space!!  🙂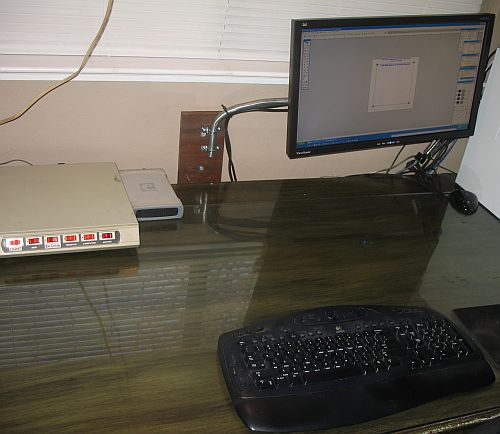 It isn't pretty (as most of my "get it done and make sure it works projects end up) but it works really well!
I'll keep testing it and make notes of future adjustments I'd like to make including painting everything black.