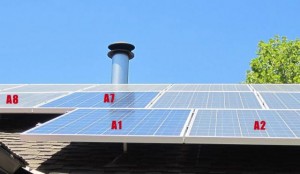 UPDATE: I'm not sure I trust the data in this article and have published a new article here:
Cleaning Solar Panels – 8% Efficiency Difference

As I posted a year ago we added solar power  to our house.  Well, I noticed that our panels have a bit of a dusty haze / layer on them (the joys of living on a dirt road).  I've cleaned them many times but with significant daily variations in production due to daylight hours, cloud-cover, haze, smog, temperature, etc.  it's almost impossible to isolate the impact that cleaning the panels has on the performance.
Well, I woke up one morning realizing that there may be a way to really test how cleaning the panels impacts performance!   Our system provides fantastic visibility into how each module is producing.  I can even export second by second output data on each and every module!  My plan was to do the following:
1.    Export all my data to excel for the past 2 weeks
2.    Determine which 4 panels have the closest power output
3.    All the panels are equally dirty, so cleaning a controlled set of 2 should help me see if there is any difference.
4.    Check the results
If I wanted to get really controlled and detailed results I could fine 6 panels:
2 – keep dirty
2 – wash once
2 – wash weekly
Here is how the test went down:
I exported all of my data, (every 15 minutes) over the past 30 days.   I discovered:
Modules A1 and A2 have only a 0.03% difference from a month's worth of data!
Modules A7 and A8 have 0.06% difference!
A1 and A7 are both in line with one another and easier to reach, so I'll clean both of them and then clean A1 "more frequently".
YAY!!!  I LOVE controlled experiments and data!!!
I cleaned the two modules A1 and A7 at the end of day 7/21.   Remember, I'm comparing these two panels to their neighbors A2 and A8
You can see the difference between the cleaned and dirty panels here: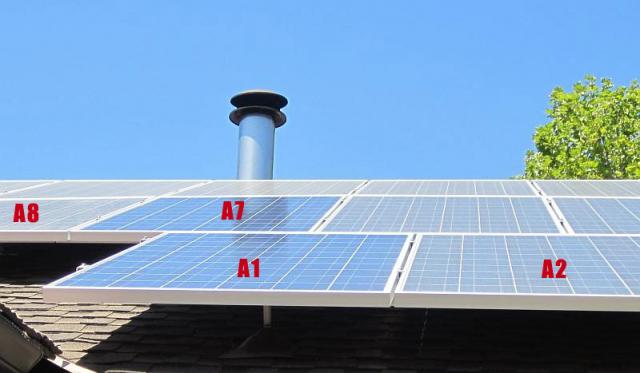 After 2 days:
I took the power output from 2 days before the cleaning  and compared it to the power output after cleaning.
BEFORE:
A2 was 0.3% higher than A1
A7 was 0.4% higher than A8
After:
A1 was 1.2% higher than A2
A7 was 1.1% higher than A8
So if my data and my math are correct, cleaning has resulted in a 1.5% increase in one panel and 0.7% increase in another.
After 7 days:
I took the output from the 35 days before cleaning and compared it to the 7 days after cleaning and here is what I got:
A1 is 1.76% more efficient since cleaning
A7 is 1.33% more efficient since cleaning
I'm not sure how consistent these results will be across time and across each individual module, but it's pretty interesting to see the results of this controlled experiment.  I don't know how much this will impact my cleaning behavior.  I suppose that I'll simply end up spraying them off a couple of times during the summer (more dust and no rain to wash away the dust) and may even use my new telescoping 11 foot pole squeegee  window washing cleaner to really get them clean.
So, what do you think?  Does my process and data look legit?  What would you have done differently?   If cleaning your panels would produce a 1.5% increase in power, how often would you clean them?
I also posted about this endeavor on my site www.SufficientSelf.com in my post here: Cleaning Solar Panels – Will it make much difference?
---