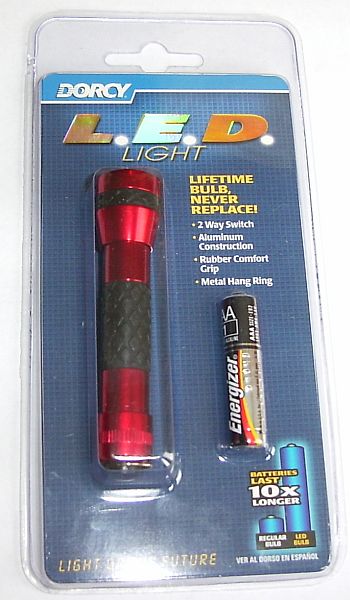 There are a TON of LED flashlights out there, but this one is my favorite: The Dorcy AAA LED Flashlight
Here are my criteria in rating this flashlight:
Price
Battery Type
Runtime
Brightness
The price is a major factor to me because I have a habit of either loosing, braking, or giving away flashlights.
Battery type is super important because I want to use rechargeables, or readily available batteries.
I want the light to be LED based for three reasons: 1) LEDs are just cool! 2) LEDs are more efficient than standard flashlight incandescent bulbs making the batteries last much longer. 3) LEDs are really cool!
Brightness is of course important with any flashlight, but isn't the most important factor in my overall favorite LED flashlight. I just want to be able to see well enough to get by. I've got a rechargeable 1milllion candela spotlight that I use when I really need to see something far away, or something I really want to light up (for example, the raccoons fighting in the back yard).
The DORCY AAA LED flashlight is my favorite LED flashlight because it is a perfect blend of the following:
Price – $6 – $8 at Walmart, Target, etc. (The red one below was $5.94 at Walmart on 9/17/04)
Battery Type – 1 AAA battery
Runtime – About 6 hours on a single battery!
Brightness – Pretty bright considering light is produced from a single AAA battery and 5mm LED. Adequate for 95% of my needs.
As you can tell by the majority of my posts on this site I am very concerned with overall value. For the money spent I believe I'm getting a great LED flashlight! It is an inexpensive light that is compact and bright.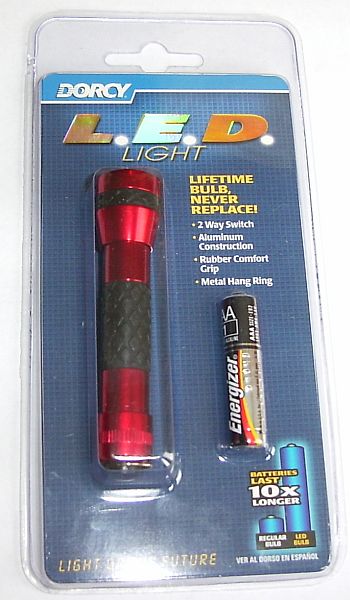 Update 4/3/05
While the Dorcy AAA LED light is great for so many uses, I found I needed something with a bit more oomph!  COSTCO TO THE RESCUE!
Costco started selling a twin pack of bright white Luxeon LED flashlights.   They came in a twin pack for $28… that's $14 a light, and for a Luxeon Flashlight, that's not bad.

Update 2/25/09: See my new post, LED Flashlight Review – AA Models