Back around 1979 my dad decided to add a basement to our house. It was to go behind the garage and above it he would build an addition. He dug the whole thing himself (with a back hoe) and poured the slab floor and poured the walls as much as he could. The remaining upper portion of the wall was built out of cinder block and filled the hollow cores with cement.
Well, the bad news is that we never had gutters on the house and we live in a pretty low area. Long story short, our basement turns into an indoor swimming pool every winter.
Don't believe me? See here: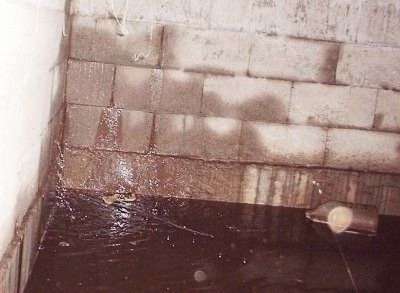 Yup, that's about 5 feet of water. Want to see worse? Here is a video of what happens when it rains REALLY hard and the water pours from under the garage slab and into the basement:
Big problem, what do I do?
We're not sure what we want to do with the basement but the final decision will be based on how well we can keep water out. Keep in mind that we are trying to avoid digging around the outside of the basement because of the cost and because of the difficulty in accessing the exterior walls of the basement (half of which are under the garage and house.
I fully understand that the first order of business is to get the water away from the house. This includes adding gutters to the house and pulling the water as far away from the foundation as possible. We're hoping to also grade the land so that the water has more of a tendency to go away from the house instead of right to it.
Here is my order of attack:
DEFINATELY going to do:
• Get as much water away from the house as possible with gutters and drain pipes.
• Seal the big cracks / holes in the wall with hydraulic cement.
Other Options:
• Seal the interior with Xypex, or similar product for waterproofing concrete.
• Dry wells outside of the basement to pump away as much water around the exterior of the walls as possible.
• Just allow the water to enter the basement and pump it out.
The only thing I won't try is Dryloc type products. I have nightmares of this stuff bubbling up and then having to remove it to try something else.